San Donato
History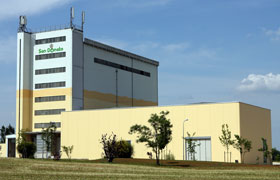 In an area of over 30.000 m2 rises a modern factory for the processing and storage of over 15.000 tons of organic and conventional cereals for foodstuffs and feeding.
Vertical silos and traditional warehouses, equipped with the most up-to-date cooling and temperature control plants, grant a correct and suitable preservation of the goods, following the most strict sanitary standards.
In order to grant its supplies of organic grains, San Donato has a direct management and control of the whole supply chain operating directly with the agricultural cooperatives, the farmers and the producer organizations.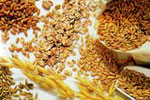 To this purpose, it enters into the cultivation agreements with the above-mentioned operators and, through the supply of seeds and fertilizers in conformity with the norms of the EEC 2092/91 Regulation, San Donato directly supervises and monitors the relevant productions of grains and organic legumes.
Furthermore, it supplies the operators with the technical support necessary to obtain a product of excellant quality, for which it also grants the traceability.
The whole management of the organic productions are under the control of the Society for Control of Biological grains of Bologna CCPB.
All the operations and processing carried out in our establishment take place in conformity with a management which follows the qualitative parametres which HACCP methodology is based on.
The Hazard Analysis Critical Point is a systematic methodical techinique wwhich is used by those companies which operate in agro-alimentary field to accertain that their own products are safe and of a high quality.
In short, it shifts the focus of its control from the final product to the raw materials and the productive process.
Furthermore, the whole management of the organic production is under the control of CCPB.